My dad sent word that one of his best friends passed away this weekend, a sad day indeed. I hadn't seen or talked to Glenn since 1982, but dad always kept me up on where he was and what he was up to.
In 1982 my dad had an opportunity to take on a new career, and he needed that opportunity. You see, my mom was the breadwinner as a civilian employee of the US Army, which meant that we moved every couple of years to a new location. We would be forced to switch schools, and my dad to switch jobs. It was as tough on my dad as it was on us kids.
If you remember 1982, the country was in a major recession and it wasn't an easy time to find a job, especially in NW Illinois where we landed after we moved back from Germany. The area, almost 40 years later is still a mass wasteland of depression. Most of the factories had closed, the railroad which was one of the biggest employers had moved out of town and the Army Depot where my mom was working was on it's way to closing a few years down the road.
Not a whole lot of opportunities for a guy that was just plopped into the area with no real contacts. My dad's hopes were on getting a job with the US Army, and due to some luck and some submitting of paperwork by another one of my dad's friends he landed a spot in the training program…that program at Red River Army Depot outside of Texarkana.
It would mean my dad would be gone for nine months for training, leaving my mom to fend for the three of us left at home.
It wasn't a good time for the Miller household. The stress of moving all over the world had taken its toll. Rich was off at college but not really trying and Denny had decided to take off to California to chase his dreams, he just didn't let us know what he was up to and we hadn't a clue about where he was.
Dad was stressed because he didn't have a job and mom hated her job teaching at the QAS school. Me, I was plunked down to podunk Savanna, IL after being in Europe and wasn't liking life. Having switched schools so many times that it seemed that it was a blur to where I really was.
The good thing about Dad taking the job was that he would be gone. At this point in life Dad and I didn't see eye to eye, to put it mildly. With Rich not doing well in school, and Denny who knows where, I was the one left at home to take all of my dad's shit, and it caused me to push back harder. The nine months apart would do us all some good.
Well, that is until when Dad left I went all teenager on my mom. I won't go into details, but I wasn't a good son. Mom had enough after six months and Dad came back drug me back to Texas with him.
It wasn't pretty; we lived in a one bedroom apartment in New Boston, another hick town, but this one in deep East Texas. Yet another High School, yet another time trying to make friends. This time without mom to run interference between my dad and I, we were left to try to live together. It wasn't easy…..in some ways it was probably the hardest three months of my life.
This is where Glenn comes in. Dad had made two good friends, Glenn (who they called Spike) and a guy named Bear (can't remember his real name off the top of my head). Both of these guys were younger than dad (as was everybody in his class), and until my dad was saddled with me, the three of them were busy with "study group" at the local tavern playing pool.
But once I arrived, Spike picking us up at the local airport, I remember riding to my dad's apartment in the back of his pickup, he had a camper on it and it was August, thinking I really did just arrive in HELL. My dad's two friends ended up running some interference for me. Since they were both younger than my dad and closer to my age, they would give my dad some grief about lightening up on me, not being such a hard ass all the time.
Sometimes it worked, sometimes not. But when it did work it gave me just enough breathing room to make it another day or another week….just had to make it 90 days until we headed home…
But the whole point of this post is to say thank you to Spike, because you did make a difference, not only during those 90 days in the fall of 1982, but throughout the next 35 years, talking to my dad and giving him counsel. You were a good friend to my dad, and in ways you never understood affected my life until today.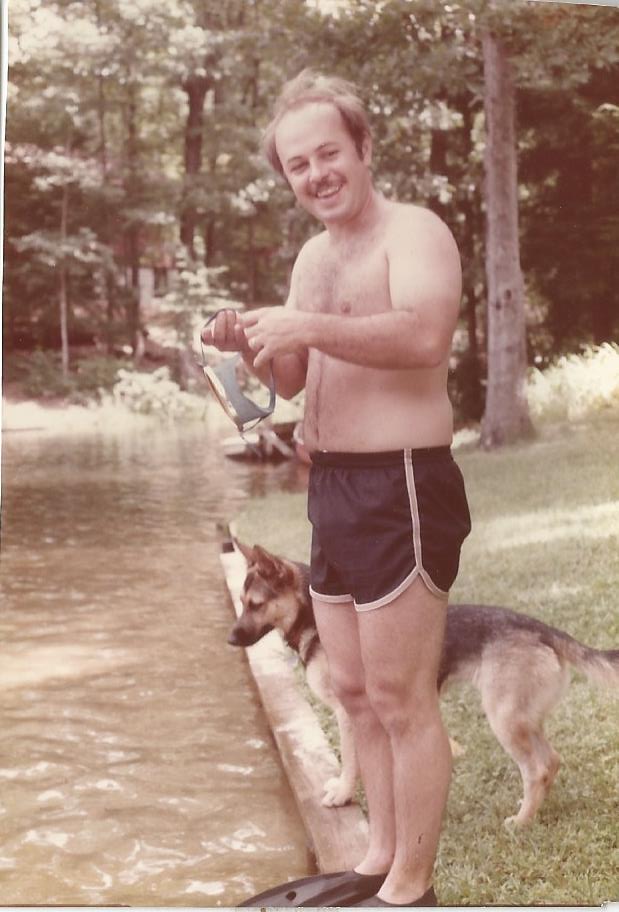 Because everything about New Boston wasn't that bad, in fact it left such an impression on me that when I was offered jobs in both Texas and California, I picked Texas. I thought Dallas was just a bigger version of East Texas….boy was I in for a surprise.